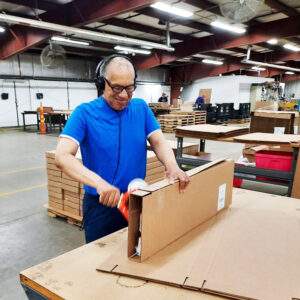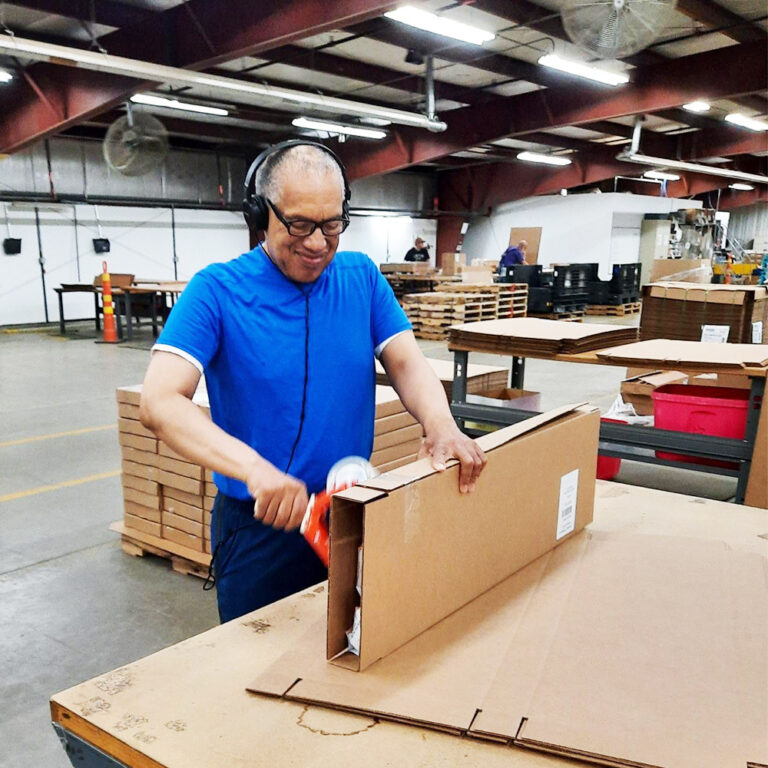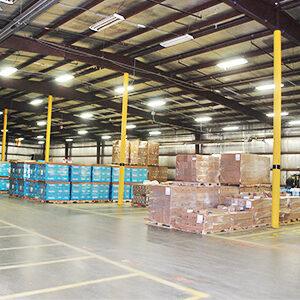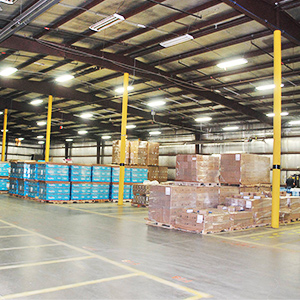 Employment Programs Providing Individuals with Disabilities Real Work Settings
Since 1963, Skyline Center, Inc. has been a nonprofit organization committed to serving the needs of Americans with disabilities. Skyline's employment program is aimed at providing individuals real work in an industrial work setting.
We have been providing industrial services to businesses in our area for over 56 years. Our production facility has an amazing staff, 40,000 square feet of warehousing, five loading docks, a computerized inventory system, and four forklifts, all available to provide customized services to handle your businesses requirements.
We specialize in co-packing, rework and assembly.  We have an excellent track record for our outstanding customer service and we never compromise quality, in fact we recently assembled 877,097 parts for one of our partner's with ZERO defects!  By partnering with Skyline, you will save on space, training costs, equipment, and overhead. Not to mention, you will be providing valuable work experience to individuals with disabilities in your community
Industrial Assembly and Packaging Services
From simple two piece sub assembly work to complete unit assembly, Skyline Center Inc. is ready to help you with your specific needs.
Plastic, Metal and Paper Manufacturing Collating Services
Plastic, metal and paper manufacturers need items collated from time to time on short production runs. Skyline Center Inc. will hand collate your products that don't warrant the expenses related to machine setup and operation.
Custom Packaging and Shipping Services
As a production partner, we will customize our program to handle your packaging and shipping requirement from start to finish. From small four step bagging operations to large multi-unit displays, we can provide you with a quality product, in time to meet your customers' needs. Skyline Center Inc. provides heat sealing, shrink wrapping and blister packaging for specific projects and effective store displays.
Customized Packaging Programs To Meet Your Needs
What attracts companies to working with Skyline Center Inc. is our flexibility. We provide hand packing/assembly programs for our customers. We also customize our program to meet your special packaging needs (i.e. several companies have provided us with their equipment and trained us and our workers to process their product.) Bottom line – less costs for you – greater profit.
Product Salvage, Re-collate, Repack, or Unpack Services
Departments depend on Skyline Center Inc. when they need quality workmanship on difficult time-consuming production rework assignments. Let us sort, salvage, re-collate, repack, or unpack any type of product. We specialize in reworking non-conforming products that you may receive from your vendors.
Industrial Co-packing Services & Warehouse Space
We contract with you to package your products to get them shelf-ready. We have ample space for any co-packing job. This is Skyline Center's specialty.
20,000 Sq. Foot Climate Controlled Warehousing
Do what you do best, let us handle the rest. We will receive, process and ship your products for you without having the material come into your door. Our assembly and manufacturing facility is 60,000 square feet of production and warehousing space including 20,000 square feet climate controlled production area and 30,000 square foot of warehousing. The warehouse computerized inventory control system manages, tracks and traces raw materials and finished product from start to finish. Your components are received at one of our five loading docks, bar coded and placed in inventory for future use. This saves you time, money, space and repeated handling of your product. Customers receive their items on time and with less wear and tear.
Industrial Packaging and Shipping Services
From simple two piece sub assembly work to complete unit assembly, Skyline Center Inc. is ready to help you with your specific needs.